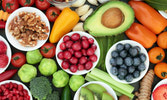 It's National Nutrition Month! We wanted to share our favorite heart-healthy foods so you can stay happy and healthy all year long.
Whole Grains
Barley, oatmeal, rye, quinoa, brown rice and other whole grains offer fiber and help lower blood sugar levels.
Berries
Blueberries are a super-food and have blood vessel-helping antioxidants. All other berries are just as good such as strawberries, blackberries and raspberries!
Garlic & Olive Oil
When cooking, garlic and olive oil are both safe and heart-healthy options for adding flavor. Olive oil is a healthy fat full of antioxidants from olives.
Leafy Greens
Lettuce, spinach, Bok choy, arugula and mustard greens all offer vitamin K, nitrates, vitamins and minerals that are good for your body and heart.
Avocado
Avocados have been linked to reduced levels of cholesterol and a lower risk of heart disease.
Fish Oil & Fish
Salmon and tuna are extremely healthy fish that also have omega-3s. Along with this, you can take fish oil capsules if eating lots of fish is not possible (or if you don't like fish). Your body needs so many omega-3s that even eating fish may not give you enough.
Black Beans
Eating beans can reduce your bad cholesterol and reduce other heart disease risk factors.
Tofu
For our vegetarians out there, tofu is full of heart-healthy minerals and fiber.
Nuts & Seeds
Walnuts will lower your cholesterol and almonds offer that same purpose along with extra fiber. Chia seeds, flaxseeds and hemp seeds contain heart-healthy nutrients as well!
Oranges
These guys have cholesterol-fighting fiber pectin and lots of potassium which can help lower blood pressure and boost your mood.
Tomatoes
Tomatoes have tons of antioxidants that help reduce inflammation.
Green Tea
Green tea also has loads of antioxidants that help prevent cell damage, reduce inflammation and protect the health of your heart.
If you would like to continue improving your heart health, PulseAir offers cardiology and cardiopulmonary consultations as well as electrocardiograms and echocardiograms.