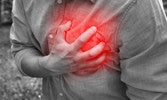 Have you ever wondered how the heart and lungs are connected? The truth is that the heart and lungs are intricately connected, and your heart's health could be affecting your breathing. In today's blog, we will share with you how your heart health and breathing are connected, so continue reading to find out more!
How Your Heart and Lungs Work Together
Your heart and lungs work closely together each time you inhale and exhale to deliver adequate amounts of oxygen to the rest of your body. The process starts when you inhale air from outside of the body, that air travels through your lungs and the oxygen from the air will attach to a protein called hemoglobin. The oxygenated blood will return to the heart, where it will then be pumped to the rest of your body. The oxygen is then utilized by the cells in your body and carbon dioxide is released and moves back to the heart. The heart will then pump the deoxygenated blood back to the lungs and the lungs will allow the carbon dioxide to pass when you exhale. Then the process begins again as you take another breath.
As you can see, your heart and lungs are working closely together thousands of times a day. Because of this connection, breathing problems can occur if there are heart issues present. Many different heart conditions can negatively affect the heart's ability to pump blood throughout the body, which can make breathing difficult. Here are a few different heart problems that can negatively affect breathing:
Tachycardia

Pulmonary Edema

Cardiomyopathy

Heart Attacks

Heart Failure
What You Can Do for Your Heart Health
Keeping your heart healthy is the best way to help your heart and lungs function properly! A great way to help you understand more about your heart health is to know your numbers! At PulseAir, we offer services including respiratory consultations, blood pressure monitoring, exercise stress testing, and more! Here are a few other things you can do to maintain your heart health:
Eat a heart-healthy diet

Incorporate more physical activity into your everyday life

Quit smoking

Effectively manage stress

Avoid consuming large amounts of alcohol

Try doing

breathing exercises

that can help your heart and lungs
Your breathing can be greatly affected by your heart health, so it is important to take care of your heart and incorporate more heart-healthy habits into your daily routine. At PulseAir, we provide many different cardiology and respiratory services that can help you breathe easier! Visit our website to see our available services and if you have any questions, please contact our team.