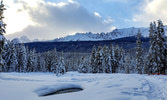 We have officially welcomed the winter season; it is important to keep in mind how the winter weather can influence our lung health. The cold, dry-aired winter weather can lead to wheezing, coughing, and shortness of breath due to the irritation it has directly on our airways and lungs. Continue reading to find out more information about winter weather and lung health!
As the weather gets colder your body must work harder to keep you warm. This can put a direct strain on your lungs and heart, especially for those individuals living with lung diseases. It is important to take precautions during the winter months to prevent flare-ups and to prevent further worsening symptoms of lung diseases.
What to Avoid in the Winter Months:
Woodburning Stoves & Fireplaces

Smoking

Strong Winds

Avoid Vigorous Outdoor Activities (Shoveling, Skiing, Snowboarding)
Protecting Your Lungs in Winter Weather:
Utilize a scarf when going outside – make sure to cover your nose and mouth with the scarf.

Make sure to dress warmly and appropriately to prevent pneumonia or other respiratory infections.

Wash your hands frequently to prevent the spread of germs and viruses.

Get a flu shot to reduce the risk of developing a respiratory infection.

Monitor the air quality in your area.
When it comes to the winter cold, our lung health can be affected greatly. It is important to prioritize your lung health all year round but especially during the winter. Use these tips to help you protect your lungs and keep your lungs healthy throughout the winter!