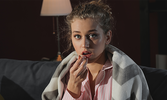 If you're in search of a good night's sleep, then snacking before bed may be the culprit that's preventing you from it. It's important to avoid snacks high in fat and sugar before bed, such as candy bars and ice cream, as they can disrupt your metabolism and increase your blood sugar. Registered dietitian Alexis Supan, RD, says, "When you eat late at night, you're going against your body's circadian rhythm." Circadian rhythm is our body's 24-hour internal clock, and it affects everything from our digestion and hormones to our sleep. In today's blog, we'll cover why you should limit snacking before bed.
Understand How Snacking Before Bed Affects Insulin
The way our bodies react to insulin is important to note, as our bodies are more sensitive in the morning in order to provide us with more energy to tackle the day. On the contrary, our bodies resist insulin at night, turning the calories from our snacks into fat instead of energy that can be burned throughout the day.
Avoid Making Unhealthy Choices Before You Head to Bed
Typically, we tend to make unhealthy eating choices at night when we want a quick snack, which is why it's important to limit these occurrences. At night, people tend to crave chips, cereal, ice cream and other similar snacks. While these may be enjoyable in the moment, they can come back to haunt you.
Be Mindful of Portion Control When Eating Late
It's also important to be mindful of how much we are consuming. We need to be cautious of our portions, especially before bed. Eating a small, fulfilling snack is much healthier than a large, unhealthy snack like cookies or chips.
Avoid Caffeine and Alcohol Before Bed
In addition to practicing portion control, avoiding caffeine and alcohol before bed is important too. Caffeine not only disrupts our sleep schedules, but it also contributes to weight gain. Alcohol has different effects on everyone, it may relax you and put you to sleep or leave you tossing and turning all night.
Try to Stop Eating Three Hours Before Bed
Though not always plausible, try to stop eating about three hours before you go to bed. This will give your body enough time to digest most of the food and still allow you to feel full while trying to fall asleep. If you are someone who eats their last meal of the day too soon, you will probably want an evening snack but remember, eat a healthy one.
While we should avoid eating before bed, it's not always realistic. We all have busy lives, and something may prevent us from eating at a decent time. Whether it be work, school, friends, etc., we all get hungry, so we want to eat something. When eating before bed, it's important to eat food with protein and healthy fats. Eat foods like carrots or broccoli with hummus, steamed or raw vegetables like grape tomatoes or snap peas, fruit with a small amount of dark chocolate, or an apple with a little bit of peanut butter. We hope you find these tips helpful in limiting snacking before bed and understanding how food and beverages can affect your ability to get a good night's rest.