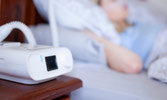 Recently, Philips Respironics ordered a recall on some of their products. This recall could affect many people. When recalls happen, you might not know exactly what's going on or how to proceed. Below is what you all need to know about this recall and what you should do moving forward.
What Happened?
On Monday, June 14th, Philips Respironics issued a recall of all CPAP, APA and BiPAP machines that have been sold from 2009 until today, with some exceptions. Philips put out this recall because they noticed there is a risk that the PE-SUR sound abatement may break down into particles that could enter the user's airway, therefore, at risk of being inhaled. The breakdown of this foam could have been caused by unapproved cleaning methods such as using ozone or because it is in an environment that has high humidity.
Safety Hazards Associated with This Recall
If you are exposed to the breakdown of this foam, you have a potential risk for skin, eye, and respiratory tract irritation, inflammatory response, headache, asthma, adverse effects to other organs such as the kidneys and liver, and toxic carcinogenic effects. Philips has already received complaints from users that found black debris/particles in the airpath circuit as well as reports of headaches, upper airway irritation, cough, chest pressure, and sinus infections.
Along with exposure to the broken-down foam, if you are exposed to chemical emissions from the affected foam, you are at a potential risk for headaches/dizziness; skin, eye, nose and/or respiratory tract irritation; hypersensitivity; nausea/vomiting and toxic carcinogenic affects. Philips has not yet received any reports from this issue.
Recommendations For People Who Use Affected Machines
If you find out that the machine you use is affected, you should contact your doctor. They can help you determine an effective treatment plan for you moving forward. Those treatments could include to stop using the affected machine, using a similar one that is not being recalled, or using different treatments for your sleep apnea such as positional or oral appliances that have a similar fit to that of a sports mouthguard or retainer. Other ideas include starting long-term treatments such as losing weight or avoiding alcohol or smoking. If your sleep apnea is moderate to severe, surgical options are available, or you could continue to use your affected machine if your doctor thinks that the benefits outweigh the risks.
As far as cleaning your machine, you want to make sure that you are following the guidelines and recommendations that the manufacturer put in place. These could include properly cleaning your machine and not using ozone, as it will make the breakdown of the foam worse.
It is important to know what is going on with the medical equipment that you are using, especially if it is being recalled. Contact your health care provider to know if the machine that you are using has been recalled and what you should do for treatment moving forward. You can also find out more here.