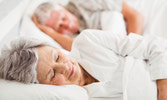 Struggling to get quality and consistent deep sleep can be frustrating and can influence your physical and mental health. Getting enough sleep is important for all aspects of your life and often, with a few simple changes, our sleep quality can improve greatly! Continue reading to find out five helpful ways to get a deeper, more sound sleep!
1. Create a Sleep Schedule
Create a sleep schedule that allows you to get a consistent amount of sleep each night by having the same bedtime and wake-up time each day. This will help your body know when it is time to go to sleep and will allow you to get better sleep overall. It is recommended that adults get at least seven hours of sleep and no more than eight hours.
2. Exercise Regularly
Exercising regularly can help you get deeper sleep at night. It is helpful to exercise earlier in the day and not too close to bedtime. Exercise can help you feel more tired at night and will allow you to sleep better throughout the night.
3. Be Mindful of What You Eat and Drink
What you eat and drink right before going to sleep will affect your quality of sleep. Try to avoid consuming nicotine, caffeine, and alcohol before bed as they can disrupt your sleep cycle. It is also important to not go to bed too hungry or too full, so eating a light snack at night will be very beneficial.
4. Reduce Stress
Prioritize your mental health and try to practice stress management skills throughout the day to minimize stress at night. Constant high levels of stress can cause your mind to race at night and not allow you to get quality deep sleep. Try to relax and unwind before bed to let your worries fade. You can try meditation, yoga, or journaling to help ease anxiety and stress before bed.
5. Create a Comfortable Sleep Environment
Your sleep environment has a large impact on your quality of sleep. Make your bedroom a clean, calm, dark environment to improve your sleep quality. Control the temperature to ensure maximum comfort and try to avoid using electronic devices in the bedroom to avoid light exposure.

Here

are a few more tips to help you create a comfortable sleep environment!
Improving your quality of sleep is possible and can be easily done with these five tips! Try incorporating a few of these tips into your daily routines to start improving your quality of sleep. If you have any questions or concerns about your quality of sleep, contact our team today!