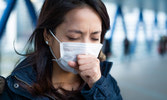 Most people with COVID-19 get better within weeks, but for some, COVID-19 symptoms can last for months after testing positive for the virus. These individuals have been given the name "long haulers." While they have recovered from the more serious impacts of COVID-19 and tested negative for the virus, they are still dealing with post-COVID conditions. Keep reading for answers to top questions people have about COVID "long haulers."
What is post COVID-19 condition?
Post COVID-19 condition may occur in some people after infection. You can get post COVID-19 condition if you:
Were hospitalized or needed intensive care during recovery or

Had a mild to severe infection with symptoms or even mild infection without symptoms
Even if you weren't formally tested and diagnosed with COVID-19, you may still experience symptoms. Post COVID-19 condition is not COVID-19. These are longer-term effects that some people experience after having the COVID-19 illness. It can affect both adults and children.
What causes post COVID-19 condition?
There currently isn't a clear reason why health problems persist in some people after being infected with the COVID-19 virus. While people with certain risk factors or existing health issues are more likely to have a serious case of COVID-19, there isn't a clear connection between these risk factors and long-term health problems. Studies are still being conducted to learn what causes the post-COVID syndrome, though it appears that it is related to inflammatory triggers.
What are the symptoms of post COVID-19 condition?
After being tested positive for COVID-19, some people may experience symptoms for weeks or months afterward. Post COVID-19 condition can affect people in different ways and they may experience a wide range of symptoms and a combination of them. Some symptoms in adults include:
Cough, difficulty breathing or shortness of breath

Fast-beating or pounding heart

Tiredness or fatigue

Memory issues and difficulty concentrating (brain fog)
Sleep disturbances

General discomfort

Anxiety or depression

Posttraumatic stress disorder (PTSD)
Over 100 symptoms or difficulties with everyday activities have been reported. About 80% of adults reported one or more symptoms in the short term (4 to 12 weeks after initial infection). About 60% reported one or more symptoms in the long term (more than 12 weeks after their initial infection). Due to some of these symptoms, 10% said they were unable to return to work in the long term.
What are some lingering mental health effects?
It's normal to feel a wide range of emotions during this time, but some symptoms and feelings may indicate you or a loved one need help. Some of the most common mental effects and challenges of post COVID-19 condition have been depression, anxiety, PTSD and insomnia.
Talk to your health care provider if you think you may be experiencing symptoms of anxiety, depression or PTSD related to your illness. They will be able to get you the support you need.
Will I regain my sense of smell and taste?
If you are someone who lost their sense of smell and taste after being infected with the virus that causes COVID-19, you may be wondering if and when you will regain it. Most patients were able to recover their sense of taste and smell, though it can take months for it to return.
Is there a way to prevent or treat this?
While it's still unclear exactly what causes post COVID-19 condition, the best way to prevent it is to take measures to prevent COVID-19, such as getting vaccinated. There is no single way to diagnose post COVID-19 condition. The World Health Organization is working to develop a diagnostic process for healthcare professionals to follow.
In terms of treatment, there is currently no treatment for post COVID-19 condition as a whole. If you think you have this condition, talk to your health care provider about how to manage your symptoms.
We're Here to Help
At PulseAir, we want to help you achieve the best health that you can. Whether you're in need of pulmonary function testing, sleep apnea treatment, respiratory therapy care and more, we're here to help. Learn more about what we do on our website and call us at 1-780-784-2177 if you have any questions.