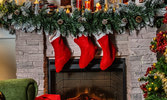 Buying a gift for someone can sometimes be more difficult than you think. This can be especially true when you're shopping for an aging loved one like your grandparents or your senior parents. Do you get them something sentimental or something practical? In our experience, as long as your gift is thoughtful, it will be appreciated. With that in mind, PulseAir Heart & Lung Centre presents this guide to gifts for your aging loved ones.
Cook a Family Meal Together
If money is tight, this is a great option that will allow you to spend quality time with your loved one and will only cost you a trip to the grocery store. To make this gift extra special, ask your loved one to provide you with an old family recipe that has been passed down through the generations. This will allow you to connect with them and your family's history at the same time.
A New Pair of Shoes
Who doesn't love getting new shoes? This gift idea also gives you plenty of options. If your loved one leads an active lifestyle, a new pair of athletic shoes is a great gift that they're sure to use regularly. You can even enjoy this gift with them, even if it just means going with them on regular walks. You can also get them a comfortable pair of dress shoes. These are gifts people don't typically get for themselves, so they're always a welcome surprise.
Event Tickets
The best gifts are the ones that allow you to spend time with your loved ones. No gift makes that easier than tickets to an event. If your loved one is a sports fan, get them tickets to see their favorite team. If they are a fan of theatre, get them tickets to see a show. If you don't have as much of a budget, even tickets to see a movie can be a great gift. As long as it's something your loved one enjoys that you can do together, they'll love the gift you give.
While you may feel like you have to work to get the perfect gift, your loved ones will appreciate anything you give them as long as thought is put into the gift. If you have any questions, please contact PulseAir.