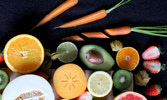 February is American Heart Month. When we take care of #OurHearts as part of our self-care, we set an example for those around us to do the same. But what is the best way we can take care of our hearts? We do so by eating healthy foods! Keep reading to learn about our top 5 favorite heart-healthy foods.
Berries
Yum! Berries not only taste great but are good for you too! You can eat them as a snack, in a smoothie, make a healthy dessert with berries and more. They are easy to incorporate into your diet so there are no excuses when it comes to not eating berries. You can buy them fresh - or frozen if you are worried about them going bad.
Berries are rich in nutrients and antioxidants, like anthocyanins, which protect against the oxidative stress and inflammation that contribute to the development of heart disease. There are many studies out there to support this such as showing that blueberries help cells that line the blood vessels which controls blood pressure AND strawberries decrease "bad" LDL cholesterol.
Fish/Fish Oil
It's important to take fish oil pills each day, as most people won't get the correct amount of omega-3 fatty acids needed otherwise. Omega-3 fatty acids help reduce heart disease risk factors such as high blood pressure, triglycerides and cholesterol. Fatty fish like salmon, mackerel, sardines and tuna are great for you if you want to eat more fish!
Leafy Vegetables
Spinach, kale and collard greens hold vitamins, minerals and antioxidants proven to improve heart health! They are packed with vitamin K which helps protect your arteries and promote proper blood clotting. Eating leafy greens may not be as yummy as berries, but you can find different ways to incorporate them! Besides a salad, you could add kale to soup, spinach to a smoothie with your berries and use collard greens as a mix with other veggies you like more. This is a good way to continue to get your heart healthy food intake without just making yourself salads every day.
Olive Oil
Instead of using butter, lard and other unhealthy fats, try olive oil. This is a great alternative that is rich in antioxidants. It can help lower cholesterol levels and can be used in salads, cooked veggies or on bread.
Walnuts & Almonds
Not only are these a great quick snack that keeps you full, but they are also heart-healthy! Walnuts protect against inflammation in your heart's arteries and are full of omega-3s, fiber and more. Almonds can be added in with fish, chicken, dessert and veggies or just eaten on their own. They are thought to help lower "bad" LDL cholesterol like berries do.
We hope you like our top 5 healthy heart food solutions! They are tasty on their own or can be added to something else to make them even more delightful. Being healthy doesn't mean you have to give up delicious food, so we hope you choose a few of the items above and get snacking!