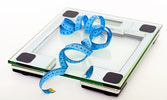 Sleep apnea is one of the most common sleep disorders in the world. It causes your breathing to be interrupted while you sleep which leads to disruptive breathing, snoring, headaches in the morning and more. There are different types of sleep apnea, the most common of which are obstructive sleep apnea and central sleep apnea. There are several factors that put people at a higher risk of developing sleep apnea. With these tips from PulseAir Heart and Lung Centre, you may be able to lower your risks.
Manage Your Weight
People who are overweight or obese are at greater risk of developing sleep apnea. Obesity often includes several other disorders that are associated with sleep apnea, including high blood pressure. Taking healthy steps to manage your weight can help you reduce your risks. These healthy activities include:
Exercising regularly

Maintaining a healthy diet rich in fruits, vegetables and lean protein

Eating smaller portions
No Smoking
Smoking, in general, is bad for your overall health. It damages your lungs and airway to the point that you become more susceptible to obstructive sleep apnea because your airway is already damaged. Smoking can lead to conditions like emphysema and hypertension, which are also risk factors for sleep apnea.
Risk Factors You Can't Control
Some of the risk factors for sleep apnea are out of your control. For example, men are more likely to develop sleep apnea than women. People with a history of sleep apnea in their family are also at an increased risk. Your chances of living with sleep apnea even increase as you age. It's important to be mindful of the risk factors you can't control because it means you should take notice of any disruptions to your sleep cycle. If you're experiencing any issues with your sleep and are in one of these elevated risk groups, please contact your doctor.
If you are living with sleep apnea, PulseAir is ready to help you find the equipment you're looking for. Please contact us to speak with our team about the equipment you need.