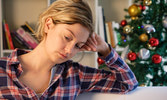 While the holidays are a special time for everyone, they can also be stressful. For many of us, the holidays mean traveling to spend time with family, potentially falling behind on our work, and generally feeling burnt out. Whether you're traveling for the holidays or hosting the festivities at your home, if you start to feel overwhelmed during the holidays, you're not alone. PulseAir Heart & Lung Centre is here to offer you tips on how you can relieve stress and avoid burnout during the holiday season.
Be Willing to Say "No"
It's easy to overcommit during the holidays. You want to make sure you're there for your family, so you agree to host the holiday gathering, make all the food, wrap all the presents, and on and on. Pretty soon, you've agreed to do more than you're capable of, and you're stressed. Sometimes, saying no to your family can be difficult, but sometimes it is the best thing for your personal well-being.
Get Your Shopping Done Early and Online If Possible
We all want to give the perfect gift, whether it's for your parents, your children, your significant other, or a close friend. But many people are looking for the same gifts during the holiday shopping season. You may find yourself running around to several different stores to try and find the item you're looking for. This takes time and can be stressful. Instead, look for the item online and have it shipped to your home. This can help you save not only time, but potentially save you money as well.
Don't Forget to Sleep
It's important that you give yourself the chance to recharge through the busy holiday season. It's easy to lose sleep when you're shopping for gifts, planning your family's festivities, wrapping presents and much more. To make sure you're well-rested, try to get 7 to 8 hours of sleep per night. If you have a normal bedtime, stick to it, even during the holiday season.
PulseAir wishes you and your loved ones a happy holiday season. If you have any questions, please contact us and we'd be happy to help you.