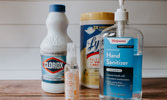 It's a no-brainer that the medical equipment you're using on a regular basis needs to be properly cleaned and sanitized. Let's take a better look at why this is critically important, how to go about cleaning your equipment and other important information you should be aware of.
What Could Go Wrong?
No matter what kind of medical equipment you use, there's a time and specific way you should be cleaning your equipment. If you're not doing so properly, it could result in:
Bacteria or mold buildup

Respiratory problems and cold symptoms

Infections

Equipment w

earing more quickly

and need

ing

to be replaced

sooner

Not getting the results you're expecting from the

equipment
Levels of Disinfection
Before we jump into how you can keep your equipment clean, it's important to discuss the different levels of disinfection.
1. High-Level Disinfection
For medical equipment that comes into contact with nonintact skin or mucous membrane, high-level disinfection is required. This means it will need to be cleaned more often and more carefully, most likely using more intense cleaning products and solutions. This could include oxygen tubing, CPAP equipment, urinary catheters and more.
2. Low-Level Disinfection
Equipment that falls under this category includes non-critical items that come into contact with skin. This kind of equipment doesn't have to be cleaned as often as the high-level products. This could include canes, walkers, wheelchairs, bed railings, blood pressure cuffs and more.
How to Keep it Clean
The cleaning routine for your specific piece of medical equipment completely depends on what you're working with. As previously mentioned, some products require more extensive sanitization than others. Read the directions carefully when you first purchase your equipment. It may be helpful to write the steps down in a place that's easily accessible and to set daily, weekly or monthly reminders when it's time for cleaning, especially if you have multiple medical products to keep track of.
Make it a priority from now on to stay on top of sanitizing and disinfecting your medical equipment properly. If you aren't sure what's considered adequate for your equipment, feel free to contact us and we'd be happy to help!