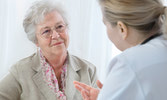 When it comes to your respiratory health, you want to be sure that you have everything under control. Often times when you have a Respiratory Therapist (RT) to assist in your health, it's easy to let them do the work and have it be out of your control. But, there are lots of questions you can be asking to help maintain & improve your health, and the equipment you use to better your health. Read on to learn more.
One of the first things you can do when working with a Respiratory Therapist, is to get to know them a little bit. It's always easier to talk with someone and ask them questions if you have a good relationship with that person. Get to know what they like to do outside of work or find out what made them want to become a Respiratory Therapist – this alone will help get your bond stronger making it easy to ask any kind of question in regards to your health and the equipment you use.
If you're not sure on what you should be asking your Respiratory Therapist, we've come up with a list of questions that will help you better maintain your health and the equipment you use so you can continue life with less worries, even when an unexpected situation arises.
What can I do to improve my breathing?

Do I need to change my diet? Should I eat certain foods or avoid specific foods?

What tips do you have to keep my equipment in top shape?

If I continue my treatment and do not stray, how will things improve for me?

Is there anything I can do that helps you, help me?

Will breathing exercises help me?

What are some solutions to helping me breathe better at night?

What are some solutions to helping me breathe better when being active?
While this is just a short list, there are many things you can ask your RT. Just remember, when you're being treated by an RT, no question is a dumb question – in fact, questions are encouraged. Be sure to reach out to the experts at PulseAir if you have questions about your respiratory health or to schedule a respiratory consultation.