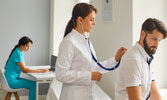 Pulmonary function testing (PFT) measures how well the lungs take in and release air and how well they move gases (such as oxygen) from the atmosphere and into the body's circulation. But why is this test performed, what do you need to do before taking this test and who is eligible for this test? The experts at PulseAir are here to answer all of your pulmonary function test questions!
What is a pulmonary function test?
This test measures how well your lungs are working. The test is performed when you breathe in through a mouthpiece that is connected to an instrument called a spirometer. The spirometer records the amount and rate of air that you breathe in and out over a period of time. For some of the test measurements, you will breathe normally and quietly - other tests will require forced inhalations and exhalations after a deep breath. PulseAir offers pulmonary function testing, so set up an appointment today!
Who is eligible for a pulmonary function test?
Ask your doctor about lung testing if you are older than 40 years and are experiencing a chronic cough, wheeze, frequent sputum (i.e. bringing up mucous most days), frequent or lengthy colds, and/or shortness of breath while doing everyday chores. You may also have this test if you suffer from asthma, COPD or any other pulmonary condition – or are having symptoms of these conditions. A history of smoking is also a sign to get this test if you are experiencing any of the listed issues.
Why is a pulmonary function test performed?
There are a number of reasons why the test may be performed. Those who are experiencing the issues mentioned above would take a test like this. Other reasons include:
To help diagnose certain lung diseases such as asthma and COPD

To find the cause of shortness of breath

To measure whether exposure to contaminants at work is affecting lung function

To assess the effects of certain medications

To measure progress in disease treatment
How do I prepare for a pulmonary function test?
There are lots of things you can do to prepare for this test. Do not eat heavy meals, have caffeine, take breathing medications or smoke before the test. Bring any oxygen you currently use and have a list of medications you are currently on. Bring your health card and arrive 15 minutes prior to your appointment. For more information, click here.
We hope this answers all of your questions regarding pulmonary function testing. If you have any further questions, feel free to contact us today!