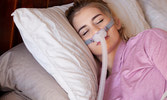 Sleep is essential for our physical and mental well-being. It's during those precious hours of slumber that our bodies repair, rejuvenate, and prepare for the day ahead. However, creating the ideal sleep environment isn't always as simple as it sounds. Noise, light, temperature, and even the comfort of your mattress can all impact the quality of your sleep. In this guide, we'll explore how to create a positive sleep environment to help you get the rest you need.
Focus On Lighting
When it comes to creating a positive sleep environment, darkness is key. One of the most critical aspects of a good sleep environment is proper lighting. Exposure to bright lights, especially blue light from screens, can disrupt your body's natural circadian rhythm, making it harder to fall asleep. Here's what you can do:
Use blackout curtains

Minimize screen time before bed

Consider using a sleep mask
Manage Noise
Noise can be a major sleep disruptor, whether it's traffic, noisy neighbors, or household sounds. To create a serene sleep environment:
Use earplugs to block out disruptive sounds

Use a white noise machine to mask background noise

Improve insulation or use rugs and curtains to absorb sound within your home
Control the Temperature
The temperature of your bedroom plays a crucial role in the quality of your sleep. Most people find a slightly cooler room more conducive to sleep. Here's what you can do:
Use breathable, moisture-wicking sheets and blankets

Aim for a bedroom temperature between 15-20°C

Use a fan or air conditioner
Enhance Comfort
Your mattress, pillows, and bedding are the foundation of your sleep environment. Choose them carefully to ensure comfort. Investing in a high-quality mattress, pillows, and bedding can help you create a comfortable sleep environment.
Reduce Clutter
Reducing clutter can help you create a calm space. A cluttered bedroom can create a sense of chaos that interferes with sleep. You can even use calming colors or decorations to promote relaxation.
Establish a Bedtime Routine
Developing a bedtime routine signals to your body that it's time to wind down. Here are some tips:
Focus on consistency, go to bed, and wake up at the same time every day, even on weekends

Incorporate activities like reading, gentle stretching, or meditation

Avoid caffeine and heavy meals before bedtime
Minimize Distractions
Electronics and late-night scrolling can disrupt your sleep patterns. Create a tech-free zone before bedtime:
Avoid electronic devices at least an hour before sleep

Create a charging station outside the bedroom
Consider a Sleep Test
While the above tips can help create an ideal sleep environment for most people, some individuals may face more complex sleep issues, such as sleep apnea. Sleep apnea is a potentially serious sleep disorder characterized by interruptions in breathing during sleep. Untreated sleep apnea can lead to fatigue, high blood pressure, and other health problems. If you or your partner have noticed symptoms like loud snoring, choking, or gasping during sleep, excessive daytime sleepiness, or difficulty concentrating, it's essential to consider a sleep test.
At PulseAir Heart and Lung Centre, we offer laboratory sleep testing, home sleeping testing, and sleep apnea treatment services. Visit our website or contact us for more information about how our team can help you get on the right track toward better sleep.