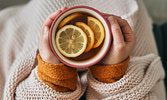 Autumn allergies are never fun and can really put a damper on the fall season and all the activities that come with it. Allergies are caused by weeds, especially ragweed pollen. Ragweed season starts in the middle of August and pollen counts rise throughout the fall. Symptoms that come with autumn allergies are very similar to spring allergy symptoms. Some of those symptoms include a runny nose, sneezing, congestion, and itchy eyes. We are going to share with you a few ways to relieve some of these symptoms you may experience.
Avoid Exposure to Allergens
Stay indoors when pollen counts are high

Avoid lawn mowing and gardening chores or wear a face mask while doing them

Shower immediately after spending time outside
Keep Air Indoors Clean of Allergens
Utilize air conditioning in the house

Try using a dehumidifier

Vacuum regularly

Use a high-efficiency particulate air filter
Over-the-Counter Remedies
Oral antihistamines

Nasal sprays

Oral decongestants

Eye drops
Home Remedies
Saline sprays to rinse pollen out of the nose and eyes

Probiotics

Honey

Essential oils
Overall, autumn allergies can be just as frustrating as spring allergies. Make sure that you are taking care of yourself and taking precautions during the fall months as this will help reduce the symptoms of your allergies.