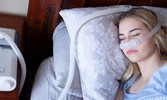 Having a CPAP doesn't mean you buy the different parts and don't have to worry about it again. It's important to keep your CPAP clean to avoid becoming sick from bacteria that could accumulate as well as replacing different parts such as a filter, tubing, mask and so on when needed. This will allow you to get the best treatment possible! So how often are you eligible for new CPAP supplies? Keep reading to find out!
For all items below, you will want to make sure you have a prescription and understand your insurance's policy. Since these items can be expensive, your insurance will want to make sure you are staying compliant if they pay for your parts. The exact requirements differ from company to company, but a common goal is to see you using your CPAP for at least four hours per night for 30 consecutive days during the first three months of use.
Mask
Your CPAP mask could be a full-face mask or nasal mask. You should replace this every 3 months. If you notice that you are experiencing excessive leaks, the mask probably needs to be replaced. Furthermore, if you are very uncomfortable in your mask, you are encouraged to try a new style or get refitted. Insurance companies will generally allow replacement every 90 days.
Tubing
With time, tubing can develop small tears, which can result in the patient receiving a lower pressure setting than prescribed. Replace tubing every 3 months to avoid any problems. Generally, insurance companies will authorize replacement of CPAP masks, tubing and filters every 90 days. Many insurance plans follow the guidelines from Medicare for regular replacement of supplies. You can review the guidelines online at http://oig.hhs.gov/oei/reports/oei-07-12-00250.pdf.
Filter
You want the air you're breathing to be clean, so replace your filters every 2 weeks. With time, they can wear out or become clogged. If the environment is particularly humid or dusty, then the disposable filter won't last as long. Visual inspection is the key to determining disposable filter life.
Cushions/Pillows
Over time and use, the silicone on the cushion or the nasal pillow can become soft and not be as efficient. Pay attention to this and replace as needed. A common timeline to follow would be twice a month or every two weeks for a nasal cushion/pillows and once a month for full face cushions.
Machine
In light of its daily use, it's a good idea to replace the actual CPAP device every 3-7 years. Many insurance companies will cover a new device every three to five years. You may also need a new sleep study before your insurance company will authorize the new device.
Headgear/Chin Strap
Over time and use, headgear may become stretched and lose elasticity, leading to over tightening and discomfort. Replace this every 6 months.
We hope this helps you learn how often you should replace your products and how often insurance will help. If you have any additional questions, feel free to contact us! We're always happy to help answer any questions you may have.