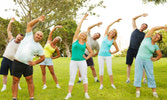 Staying active is an imperative part of being healthy, but it can be challenging while on home oxygen therapy. Even though it can be challenging, it is definitely possible to stay active and fit while being on home oxygen therapy. Today, we will share with you a few tips on how to safely and effectively exercise while on home oxygen as well as a few exercises that you can try!
Before doing any workout with an oxygen concentrator, it is important to inspect your equipment to ensure that you are prepared to exercise. Quickly check your equipment to ensure that everything is working properly and make sure that your nasal cannula and tubing are secured in place. If you find that the tubing from your oxygen tank is getting in the way of your exercises, consider using a portable oxygen concentrator (POC).
After you have checked and secured all of your oxygen equipment, you are ready to start exercising! Here are some exercises that you can easily do while on oxygen therapy that will help you stay active and fit:
Walking
Although it doesn't seem like a lot, walking every day can actually be very beneficial in staying active. Walking is a great option, especially for those who are just starting out with exercising while on oxygen therapy. It is best to start with 20-30 minutes of walking a day.
Light Leg Exercises
Try doing leg exercises that are light and low impact. A few examples of these exercises include calf raises and leg extensions.
Light Arm Exercises
A great option to help you build strength in your upper body is to do arm exercises with light weights. A few examples of these exercises include arm curls, forward arm raises, and triceps extensions.
Yoga
You might find it helpful to sign up for a low impact fitness class like yoga. Yoga is a great option for low impact exercise, and it focuses on breathing which is great for those on oxygen therapy.
With any form of exercise, it is important to take breaks when needed, don't push yourself too much. Find a form of exercise that works for you and that allows you to stay active while on home oxygen therapy.
Don't let oxygen therapy get in the way of your active and fit lifestyle. You can still do all of the things you love, including exercise, it just may look a little different with an oxygen concentrator. It is important to always discuss exercise plans with your doctor to ensure that you can participate safely.
At PulseAir, we provide safe and efficient home oxygen services, visit our website to learn more or contact us for more information!