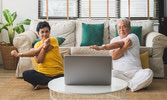 For those who are on supplemental oxygen, maintaining physical fitness may seem impossible and discouraging to a lot of home oxygen users. However, incorporating regular exercise into your daily routine is possible and recommended to maintain your physical fitness and improve your quality of life. Home oxygen shouldn't stop you from prioritizing your physical health, it may just look a little different. Finding ways to safely exercise with home oxygen is extremely important. Today, we will explore the importance of maintaining your physical fitness with home oxygen!
The Importance of Exercise for Individuals on Home Oxygen
Maintaining physical fitness has both physical health and mental health benefits. Physical health benefits include better circulation, increased energy levels, reduced shortness of breath, a strengthened heart, and so much more.

Individuals on oxygen therapy need to maintain their physical strength

to ensure that they can complete daily tasks with ease. Exercise can also provide many mental health benefits that can improve your quality of life, some of these benefits include reduced stress, boosted self-esteem, better sleep, and can reduce symptoms of anxiety and depression.
How to Safely Exercise with Home Oxygen
Safety is the number one priority when it comes to exercising with home oxygen. When you exercise, your body requires more oxygen, so it is important to always use your supplemental oxygen when exercising. It may take time to get used to exercising with your oxygen concentrator, but many individuals find it easier to use a portable oxygen concentrator, for more convenience when exercising. It is also extremely important to always check that your oxygen equipment is working properly, and that all tubing is secured before exercising. Always speak with our provider before incorporating exercise into your daily routine to ensure that you can do so safely and efficiently.
Safe Fitness Activity Suggestions
Stretching

Aerobic Exercise

Walking

Stair Climbing

Yoga or Pilates Classes

Meditation and Breathing Exercises

Chair Exercises
The most important thing to remember when trying to maintain your physical fitness is safety and fun! Try to find forms of exercise that you enjoy doing, this will help you stay consistent and continue to feel motivated each day. At PulseAir, we are here to help you! If you have any questions about using your home oxygen while exercising, please contact our team or visit our website for more information.