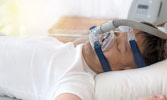 If you've recently been diagnosed with sleep apnea and are worried about how CPAP therapy will go, know that you're not alone. Getting used to using a CPAP machine is a process that is difficult for many but doing your research and learning tips from experienced users can help tremendously. We've gathered our top tips to make sure beginner CPAP users are successful, so keep reading to find out!
1. Slowly get used to wearing your mask.
One of the best tricks for getting used to wearing your CPAP mask at night is to wear it during the day when possible. For example, if you're watching TV or taking a daytime nap, put your mask on and start training yourself to get used to the feeling. CPAP therapy is something you should ease yourself into slowly so you can make it part of your routine.
2. Find the right mask for you.
CPAP masks come in all different shapes, sizes and types. Your doctor will usually recommend which type is ideal, but it's important to be aware of your options so you can decide what would be most comfortable for you. Some examples include:
3. Know what's important before you purchase your equipment.
Machines are designed with users' personal preferences as a priority, so keep that in mind when looking for a machine to purchase. Some things to consider include:
If you're bothered by noise

What your normal sleeping position is (right side, left side, back or stomach)

If you change positions throughout the night
4. Use a CPAP humidifier.
A common issue among CPAP users, especially beginners, is the dryness they experience from the constant airflow. Most CPAP machines come with a humidifier integrated right into the machine to prevent dryness issues from occurring, so make sure that's an option if having a humidifier is important to you.
5. Be consistent.
When it comes to CPAP therapy, consistency is key. Skipping sessions and going a night or two without at least trying to use your machine just prolongs the compliance period and will leave you more frustrated. Each night you miss your therapy is another night that you're missing out on the various health benefits your CPAP machine provides you with.
6. Clean, clean and clean.
One of the worst mistakes a new CPAP user can make is avoiding the cleaning process. Not only is it important to keep your equipment in good shape, but it will also prevent you from being exposed to quickly growing bacteria. Cleaners like the SoClean 2 CPAP Sanitizer make the cleaning process so much easier.
While the adjustment period may take a few weeks or months, the health benefits of starting CPAP therapy are endless. Getting used to wearing a CPAP mask at night will be worth it and will become a normal part of your nighttime routine before you know it! If you have any questions or want to take a closer look at the CPAP products we provide, contact us!