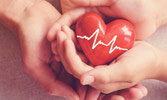 February is Heart Health Month and the perfect time to set some goals to improve your physical and mental well-being. Did you know that cardiovascular disease is one of the top causes of death in Canada? Your heart health is very important so let's take a look at some tips to help you focus on your heart health and reduce the risk of heart disease.
Know Your Health History

. It's important to know your risks and talk to your family and doctor about your health history.

Eat a Healthy Diet

. Yes, we know you're tired of hearing it, but we repeat it because it's so important. Make healthy food choices like more fruits, vegetables, whole grains, lean meats, and low-fat dairy products. Try to limit or eliminate salt, saturated fat and added sugars.

Increase Your Movement

. Cardio may not be your favorite pastime, but it's important for your cardiovascular health. Getting at least 150 minutes of moderate to intense aerobic activity each week can make a significant difference. Try to also incorporate muscle-strengthening activities at least 2 days a week.

Quit Smoking

. This is a major point! It's never too late to quit smoking and reap the benefits of stopping, including lowering your chance of getting lung cancer, heart disease or other conditions. Start your quit plan today or call

1-866-366-3667

toll-free and talk to a quit coach.

Take Your Medicine as Prescribed

. If you take medication to treat a medical condition such as high cholesterol, high blood pressure or diabetes, make sure to follow your doctor's instructions carefully. Always ask questions if you don't understand something and never stop taking your medicine without consulting your doctor.

Manage Your Stress

. Staying positive and minimizing stress may be good for your heart as well as your mood. Chronic stress, anxiety, and anger can raise your risk of heart disease and stroke. Maintaining a positive outlook

may help you stay healthier

for longer.

Drink In Moderation

. Drink alcohol only in moderation and limit your intake of sugary, high-calorie drinks such as sodas, fruit drinks, sports drinks, energy drinks and others. Limiting sugary drinks can help you maintain your weight and have a healthy diet.

Shed Excess Weight

. Studies suggest that having

excess weight around the middle

puts your heart health at risk. Excess belly fat correlates with higher blood pressure and cholesterol levels, two key risks to your heart health.

Avoid Overeating

. As we've previously mentioned, your diet has a heavy impact on your heart health. Practice portion control by sticking to healthy serving sizes and stopping eating before you're full.

Get Enough Sleep

. Proper sleep is an essential part of your heart health. Deep sleep allows the body to repair itself and getting enough sleep also helps you function normally during the day.
PulseAir Heart & Lung Centre is here to help if you have any heart or lung-related concerns. We provide many services to help you live a healthier life, including echocardiograms, cardiology consultations, blood pressure monitoring, sleep apnea education and treatment, home oxygen services, respiratory consultations, pulmonary function testing, sleep testing, exercise stress testing and much more. Visit our website today to learn what we do and how we can help.