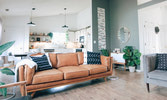 We've had a crazy year with the many changes caused by COVID-19, many of which forcing us to stay home much more than we were used to. More time at home often leads to a greater desire to make your home a more peaceful place since you're spending more time there. Here are some practical ways to promote a relaxing, stress-free living environment.
Keep it Simple
Excessive decoration and complicated patterns throughout your home can give off a more cluttered, busy environment. Keep it clean and simple by accessorizing your home with clear lines, neutral colors, minimal décor, and natural light.
Stay Organized
Another way to feel less cluttered is to make sure everything has a place. Invest in bins, baskets and other storage pieces so your space is clean and organized. Also, make it a habit to keep your home clean even if it means spending a short 10 minutes before bed or in the morning to pick up around the house.
Play Around with Scents
There are countless ways to give your home a calming scent. Whether you prefer candles, diffusers, plug-in air fresheners or room sprays, adding a nice smell is a great way to create a more peaceful environment. Scents that are known to have stress-relieving effects include lavender, vanilla, rosemary, lemon and cinnamon.
Add Some Greenery
House plants are a great form of home décor as they're beautiful but also provide oxygen. Choose air purifying houseplants that are easy to care for, such as a snake plant, spider plant, aloe vera or English ivy.
Have a Light and Neutral Color Scheme
You may be surprised at just how much of an effect colors can have on your mood. To promote a calm environment, go for softer tones and earthy colors such as white, beige, taupe or ivory. If you want to add a pop of color, do so in a smaller, more subtle way such as colorful throw pillows or wall decorations rather than painting an entire room a bright color.
Eliminate or Reduce Distractions
Technology is everywhere, and many people spend all day on their computers and phones for work. When you're finally off work for the day, step away from those distractions and allow your mind time away from the blue light. For example, some people prefer not having a TV in their bedroom as it becomes a habit for them to constantly have a show or movie playing.
There are countless ways to make your living environment a more peaceful, Zen place where you can unwind. Try implementing some of these helpful tips and you'll quickly notice your home becoming a space of less stress and more relaxation.