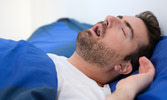 Have you ever thought about how drivers' fitness and sleep apnea could be related? Sleep apnea can affect your driving, so it is important to prioritize quality sleep, especially when operating commercial motor vehicles (CMV). When it comes to drivers' fitness and HSATs, it is crucial to have a good understanding of both for the safety of yourself and everyone else on the road.
What Is HSAT?
HSAT stands for home sleep apnea testing and is a useful and accessible way to confirm obstructive sleep apnea (OSA). Three to five sensors are placed on your body before you go to sleep and those sensors will collect information like heart rate, oxygen levels, nasal airway pressure, and more. After your home sleep apnea test, if your results are positive, you will be able to start receiving a treatment plan to reduce your sleep apnea symptoms. At PulseAir, your results will be sent to your family doctor within 4-10 days, so you will get results quickly!
How Is Sleep Apnea and Driving Related?
Sleep apnea negatively affects your quality of sleep resulting in daytime sleepiness and decreased performance. Lack of sleep can lead to slowed reaction times and difficulty staying awake when driving. Untreated sleep apnea can be dangerous for yourself and everyone around you because it could result in a fatigue-related motor vehicle crash.
When Should You Get a Home Sleep Apnea Test?
If you are showing signs and symptoms of obstructive sleep apnea, it is a good idea to get a home sleep apnea test done. Symptoms of sleep apnea include excessive daytime sleepiness, snoring loudly, gasping for air while asleep, mood changes, and morning headaches. If you think that you have sleep apnea, it is important to contact your doctor as soon as possible to help you get a correct diagnosis and effective treatment.
Drivers' fitness and sleep apnea are closely related and should be taken seriously for the safety of everyone on the road. To learn more about our home sleep testing services, visit our website or contact us with any questions!