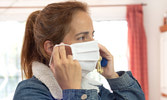 While we are looking toward the end of the COVID-19 pandemic, it is still affecting many individuals and is something that needs to be considered as we go into the fall months. For the last two years, schools and workplaces have been in and out of being strict with masks and in-person contact. As we are coming out of the pandemic, schools are starting to return to "normal" which could make the back-to-school season even more stressful. We are going to share with you what variants could start spreading and how to manage recurring infections.
Variants
BA.5 What is it?

Right now, the BA.5 wave of COVID-19 has been the most recent variant and seems to bring the most concern for the fall. It is an Omicron sub-variant and is even easier to transfer than some of the other variants in the past. It has also been infecting individuals with vaccines and antibodies from previous COVID-19 infections.



What you need to know:

If you are vaccinated and have gotten your booster shots, they will still provide protection from getting severely ill. The vaccine doesn't mean you can't get infected, but it will help lessen symptoms and reduce the risk of hospitalization.
BA.5 is fairly similar to other COVID-19 variants and the symptoms are close to the same. The common symptoms are fever, runny nose, cough, sore throat, and fatigue. Although this variant is easily spread compared to other variants, the symptoms and severity of this variant seem to be a lot less because of the vaccines and boosters.
Recurring Infections
Immunity

Breakthrough infections are very common, especially with the BA.5 variant. The variants are getting better with each one at infecting individuals who have already been infected or vaccinated. Although immunity can't fully protect you from being infected, it is still important to stay up to date on your vaccination and boosters to reduce the risk of hospitalization and keep the spread to a minimum.
Protecting yourself this fall:

Stay up to date on your COVID-19 vaccines, especially if you have a weakened immune system.

Wear a mask if you feel you need it.

Stay home if you are sick and keep a distance from others.
Try to avoid crowded areas indoors where it is poorly ventilated.

Test if you have been exposed or are feeling symptoms to prevent further spread of COVID-19 and variants.

Practice good hand washing and hygiene.
Clean and disinfect regularly.
It is important to still take COVID-19 seriously and to take precautions when it comes to possible infections. With students returning to school, cases of infected people will most likely increase and protecting yourself as much as possible will reduce the risk of an extreme outbreak. Keep up to date on recent information regarding COVID-19 to keep yourself and everyone around you safe and healthy.