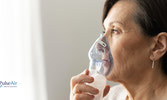 Oxygen therapy provides a plethora of benefits for individuals with chronic respiratory conditions. With the many benefits that it provides, patients sometimes run into challenges with home oxygen therapy. Luckily, there are solutions to those challenges, and we are here today to help you find the solutions to any home oxygen therapy challenges you encounter!
Nose, Mouth, and Throat Dryness
It is common for individuals who use home oxygen therapy to experience nose, mouth, and throat dryness. It is crucial to take steps to combat this dryness as it can lead to tooth decay and other health complications if left untreated. Here are a few solutions you can try to combat this challenge:
Stay hydrated throughout the day

Utilize a humidifier bottle with your home oxygen equipment

Clean the humidifier bottle and all tubing regularly

Use creams and moisturizers such as nasal moisturizers and saline sprays to combat dryness

Utilize a room humidifier
Skin Irritation
Long use of home oxygen therapy can lead to skin irritation from the nasal cannula or mask. Here are a few solutions to combat skin irritation caused by your home oxygen therapy:
Utilize hypoallergenic tubing.

Keep the skin clean and moisturized with topical treatments or lotions.

Always use water-based products, never oil-based (such as petroleum jelly), to help minimize irritation
Proper Equipment Maintenance
It can be difficult to know what kind of maintenance you need to do for your home oxygen equipment, but with these next few tips you can ensure that your equipment will maintain optimal performance and longevity:
Clean surfaces regularly and avoid using harsh chemicals that can damage your equipment

Protect your equipment from any liquids and ensure that it is dry at all times

Inspect your cannula or face mask and replace it if necessary

Ensure that your equipment is well-ventilated, avoid laying objects such as blankets or pillows onto the concentrator as this can lead to poor ventilation

Schedule professional maintenance as instructed by the manufacturer in the manual
Safety Concerns
With the use of home oxygen, there may be some concerns regarding fire hazards and overall safety. Here are a few ways to keep yourself and others around you safe when using home oxygen:
Educate yourself and your family about the hazards of oxygen tanks

Ensure that you have installed reliable smoke detectors in your home

Have backup power sources in case of a power outage

Avoid smoking around your oxygen concentrator

Keep your oxygen equipment away from open flames
When it comes to home oxygen therapy, our team at PulseAir Heart and Lung Centre wants you to have an extremely comfortable, safe, and optimal experience as this treatment can improve your respiratory health significantly. We hope that after reading this blog, you can overcome those challenges and have a great experience with your home oxygen therapy. For more information about our home oxygen services, visit our website or contact us to find out how to get started! Our team is eager to help you!