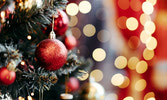 Have you been experiencing allergy symptoms around the end of the winter season? It could be your Christmas tree or snow mold allergies that are causing your symptoms. Continue reading to find out more about Christmas tree allergies, snow mold allergies, symptoms, and where to book an allergy test!
What are Christmas Tree Allergies?
Whether you have a real tree or an artificial tree in your home, they both can have allergens and irritants that are causing your allergy symptoms. Your artificial tree along with the lights and decorations may have been stored in an attic or basement for the last year and is probably full of dust and allergens. A real tree can bring dust in on the branches and pollen from the pine. Here are a few symptoms that real and artificial trees can cause:
Coughing

Rash From the Tree Sap

Runny Nose

Itchy Eyes
What are Snow Mold Allergies?
Snow mold is found in the damp areas on the ground where snow has accumulated and begins to melt. Early springtime, once the snow has melted completely, the mold spores are released into the air which is what causes allergies and irritation for individuals that are allergic to snow mold. There is gray and pink snow mold. Gray snow mold grows on the blades of grass while pink snow mold grows on the roots of the plant. Here are the snow mold allergy symptoms:
Itchy Eyes

Sneezing

Runny Nose

Itchy Throat

Congestion
Allergies during any season can be a pain and affect our everyday lives. It is important to get an allergy test to identify what is causing your allergy symptoms so you can get the correct treatment. At our PulseAir Clinic, we offer allergy testing that is quick, easy and painless! Visit our website for more information!