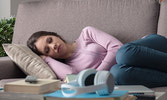 There may be times throughout the day when you are feeling tired or want to rest and might consider taking a nap. Naps can be beneficial and helpful but taking them at the wrong time or for too long may do more harm than good. In this blog, we are going to share with you the pros and cons of napping and when the right time to take naps is to get the most out of it.
When taken at the right time and for the right amount of time, you can get the most benefits out of your nap. Some of the benefits of napping include:
Provides relaxation

Reduces fatigue
Increases alertness

Improves mood

Improves memory

Decreases stress
While you can gain many benefits from a nap, there are some negative effects that napping can give.
Sleep inertia is one of those negative effects, you could end up feeling worse after taking a nap.

Taking naps can also result in problems with sleeping at night. The quality of your sleep and how much sleep you are getting at night could be affected by naps.

Taking naps can make sleep disorders worse, things like obstructive sleep apnea and insomnia can get worse by taking naps throughout the day.
If you decide to take a nap, an afternoon nap is the best option. Mayo Clinic recommends that you take naps between 2 and 3 p.m. Any time after 3 p.m. is too close to bedtime and you may find it more difficult to fall asleep at night. It is also recommended to keep naps short; it is good to aim for a 10–20-minute nap. The longer you nap, the worse you could feel afterward.
Here are four tips to help you improve the quality of your nap:
Set an alarm

Create a relaxing environment

Try to set aside your worries and fully relax

Be intentional and reflect on what you want to gain from napping
Knowing when you need to take a nap is important. Sometimes our days are more tiring than others and we need to take the time to rest and rejuvenate our bodies. If you are experiencing any fatigue or unusual sleepiness, it could be time to take a nap. You could also consider taking a nap if you are anticipating losing sleep later because of work or another activity.
Naps can provide many mental and physical health benefits, so be sure to maximize them. Next time you are thinking about taking a nap, remember these few things and make the decision that is best for you and your health!