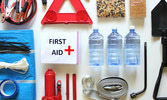 Winter living is a way of life in Canada. And as we prepare for another winter season, it's important to be prepared for the unexpected. And one of the biggest dangers of winter is icy roads. It's a fact that we can't control that we sometimes have to drive in less-than-ideal conditions. So, what are the things you need to make sure you have in your car so you're safe on the roads during this winter season? PulseAir Heart & Lung Centre has compiled a list of the 5 most important things to keep in your vehicle when you're on the road.
Ice Scraper & Snow Brush
We get it. If you wake up early in the morning, the last thing you want to do is go outside in the cold to make sure your car is cleared off. But visibility is critical to driving in the winter and getting all the snow off your car is important to make sure it doesn't get onto your front or back windshield and prevent you from seeing the road.
Blankets & Extra Winter Clothing
If you get stranded and your car's heat isn't working, you need to make sure you have blankets in your vehicle. These will help keep you and your family warm as you wait for help to arrive. Likewise, keeping extra winter clothes in your car can help provide you extra layers if you need to go outside to inspect damage to your vehicle or signal help on the road.
First Aid Kit
If you go off the road in an accident, it's important that you have a first aid kit that can help treat injuries until professional help can arrive.
Nourishment
Keeping water in your car is important. This will allow you to stay hydrated if you are stranded for an extended period of time. You should also keep non-perishable snack items like granola bars and unsalted nuts in your vehicle. These snacks can provide nourishment while not dehydrating you, which can occur with snacks like chips and beef jerky.
Jumper Cables
For the times when it gets really cold, you want to make sure you're able to start your vehicle. Keep a set of jumper cables in your car that you can use to get a jump start if your battery has been impacted by the cold weather.
PulseAir wants you to stay safe during the holidays and the entire winter season. If you have any need for our services, please contact us.