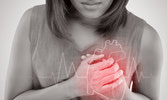 In the United States, heart disease is the leading cause of death for both men and women. Although it affects both men and women, symptoms in women may look different than symptoms in men. Because symptoms in women are less commonly known, fewer women are diagnosed with heart disease. It is crucial for women to understand that their symptoms will differ from what men experience and knowing them can help protect you. In this blog, we will share with you the symptoms of heart disease in women.
Heart Disease Symptoms in Women
Pain or discomfort in the chest

Discomfort in the neck, jaw, shoulder, upper back, or upper belly

Shortness of breath

Pain in one or both arms

Nausea or vomiting

Sweating

Unusual fatigue

Indigestion or heartburn
Risk Factors of Heart Disease
Diabetes

Menopause

Family history of heart disease

Mental health conditions like anxiety, depression, and stress

Smoking

Inactive lifestyle

Obesity

Overuse of alcohol

High blood pressure

Use of hormonal birth control

Inflammatory and autoimmune diseases
What Can You Do?
Although there are many risk factors that can't be changed like age and family history, there are a few changes that you can make that will hopefully lower your risk of developing heart disease. Here's what you can do:
Effectively manage your current health conditions

If you currently have health conditions like high blood pressure, diabetes, or high cholesterol, it is important that you follow all treatment and management instructions given to you by your doctor. If you are not currently being treated for these conditions, speak with your doctor about treatment options.

Maintain a healthy weight

Maintaining a healthy weight by exercising regularly and eating a healthy diet can be very beneficial in preventing heart disease.

Limit alcohol

Limiting and avoiding alcohol can help lower your risk of developing high blood pressure and weight gain.

Quit smoking

Smoking cigarettes can increase your risk of developing heart disease and heart attack. It is important that if you don't smoke, you shouldn't start, and if you do smoke, it is crucial that you quit.
Heart disease is very serious, and it is important to know and understand the signs and symptoms to help you get the help that you need. To learn more about our cardiology services, visit our website!