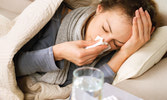 Respiratory syncytial virus, or RSV, is a very common respiratory infection that causes cold-like symptoms that primarily affects infants, young children, and adults with weakened immune systems. Today, we will share with you the common symptoms and management strategies so that you can easily spot RSV and know what to do if you or a loved one has it.
RSV Symptoms
In Infants:
Irritability

Fatigued

Fever

Breathing Difficulties

Cyanosis (bluish lips and fingernails)
In Young Children:
Runny Nose

Decreased Appetite

Coughing or Sneezing

Fever
In Adults:
Congestion or Runny Nose

Sore Throat

Cough

Headache

Low-Grade Fever
When to See Your Doctor
If you or your child has trouble breathing, poor appetite, or other severe symptoms, it's important to seek medical attention immediately. It's important to remember that a barking or wheezing cough can be one of the first signs that the virus has spread and a more serious condition such as pneumonia or bronchitis has developed.
Tips for Managing RSV Symptoms
Stay Hydrated:

Adequate fluid intake for both children and adults with RSV is crucial to prevent dehydration.

Rest:

Get plenty of rest to promote faster healing and conserve energy.

Over-the-Counter Medications:

These can help alleviate pain and reduce fever. Consult with your doctor before giving any medications to infants or children.

Nasal Saline Drops:

These can help relieve nasal congestion and clear nasal passages.

Practice Good Hygiene:

This will be extremely helpful in preventing the spread of the virus and reducing the risk of exposure to other viruses.
In severe cases, if hospitalization is necessary common treatments include oxygen, IV fluids, mechanical ventilation, and tube feeding.
After reading this blog, you now know the symptoms of RSV and will be able to spot it if you or a loved one is showing symptoms. Always consult with a medical professional if you think or a loved one has RSV as it can lead to other serious health conditions. If you have any questions about respiratory health or our services at PulseAir Heart and Lung Centre, please contact our team.